Ruff Diamond's Double Trouble "Dora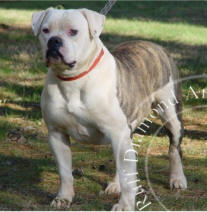 Dora is one exceptional female she has the structure, movement & attitude that will fit with the best of them. Dora is just like her brother Willie in a lot of aspects. Dora is one great show dog and only lacks one win to Champion in only 4 showings. Dora has one of the most loving attitudes I have seen on an AB and has the drive to boot. She loves the spring pole and will stay on it as long as you let her. She has a great build with lots of muscle and a super big butt. I do believe we should have named her J-Lo because of her wide load.
Dora loves kids and wont let them out of her site if she can help it. She is always up for a hug and will always give one back. She is one big ol' lap dog.
Weight: 94 lbs Height: 23.5" at the withers
Dora's Pedigree
Sire
Ch. Bama's Best Khubla Khan of MGK

Sire
MGK's Mountain Gator Red

Sire
Symmes Rip N Woody

Dam
Symmes Slashin Sheena

Dam
MGK's She's a Doozy

Sire
Farnetti's Dozer Bruno

Dam
Ruby Farnetti

Dam
Ruff Diamond's Saddleback Sadie

Sire
Ch. SS Georgia Cracker

Sire
S.Gr. Ch. Major Bully

Dam
Johnson's Collette 25

Dam
Ruff Diamond's Queen Daisy of Blackwell

Sire
WAB Jackson's Ace

Dam
Blackwell's Homecoming Queen
Please email with any questions you may whether you own a Ruff Diamond dog or not we are always here to help.
Thanks Mike
send email to
706-669-9189

Copyright Ruff Diamond AB's © 1998-2005, Ruff Diamond all rights reserved
All information, photo's and contents contained on this website pertaining to our dogs or contracts, unless otherwise indicated, is solely the property of Ruff Diamond American Bulldogs. Any reprints or other dissemination are prohibited with out written consent from Ruff Diamond American Bulldogs and is punishable by law.