Ruff Diamond's "Montana" Magic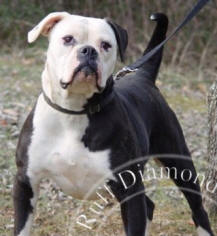 Montana....WOW !! Just check her out she looks a lot like her mom Mookie and has her daddies paint job. Montana has that female attitude that is for sure. She loves to play with her ball all the time and will throw it out of her kennel for you to get and throw back. Structure, movement, head type and the look...Montana has it all. What more can you say about her except PHENOMENAL.
Weight: 75 lbs Height: 23" at the withers
Montana's Pedigree
Sire
Ch. SS Fatboy Slim

Sire
Bama's Best Rattler of JDJ

Sire
JDJ Dick the Bruiser 3

Dam
JDJ Collette

Dam
Ch. SS Lady Magic

Sire
S. Gr. Ch. Major Bully

Dam
Johnson's Collette 25

Dam
Ruff Diamond's Magical Mookie

Sire
Ch. SS Georgia Cracker

Sire
S.Gr. Ch. Major Bully

Dam
Johnson's Collette 25

Dam
Ruff Diamond's Queen Daisy of Blackwell

Sire
WAB Jackson's Ace

Dam
Blackwell's Homecoming Queen
Please email with any questions you may whether you own a Ruff Diamond dog or not we are always here to help.
Thanks Mike
send email to
706-669-9189

Copyright Ruff Diamond AB's © 1998-2005, Ruff Diamond all rights reserved
All information, photo's and contents contained on this website pertaining to our dogs or contracts, unless otherwise indicated, is solely the property of Ruff Diamond American Bulldogs. Any reprints or other dissemination are prohibited with out written consent from Ruff Diamond American Bulldogs and is punishable by law.