Ruff Diamond's Charmed One "Piper"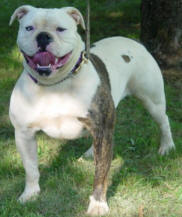 Piper is one feisty female, always on the go always trying to pick on the other dogs. She definitely packs a punch in whatever she does and she won't stop until you tell her too.. Piper is out of our female Sadie and Bossman. She has a great compact body with a lot of attitude to go with it. She is a whole lot of dynamite in a small package. Watch out for this girl she is going to blow you away.
Weight: 78 lbs Height: 22.5" at the withers
Piper's Pedigree
Sire
Bloodlines Bossman of Maplegrove

Sire
Ch. Mac's King Mufassa CGC,CD1,IDT1, GDT

Sire
MGK Brahma the Bull

Sire
MGK Gator Red

Dam
MGK She's A Doozy

Dam
MGK Stumpy Red

Sire
MGK Gator Red

Dam
MGK Patches

Dam
Maple Groves Miss Bully

Sire
MD Brando

Sire
WAB Magnum Red

Dam
MD Brandy Boo

Dam
GWK Big Daddy Cool Little Bit "Ruby"

Sire
GWK Big Daddy Cool

Dam
GWK Pheobe

Dam
Ruff Diamond's Saddleback Sadie

Sire
Ch. Georgia Cracker

Sire
S Gr Ch Major Bully

Sire
MD Samson

Dam
MD Sheba

Dam
Johnson's Collette 25

Sire
JDJ Bo Donald

Dam
JDJ Collette 10

Dam
MI Queen Daisy of Blackwell

Sire
WAB Jackson's Ace

Sire
Jackson's Buck

Dam
Johnson's Sugar Doll 53

Dam
Blackwell's Homecoming Queen

Sire
Blackwell's Abominable Snowman

Dam
Blackwell's Prue
Please email with any questions you may whether you own a Ruff Diamond dog or not we are always here to help.
Thanks Mike
send email to
706-669-9189

Copyright Ruff Diamond AB's © 1998-2005, Ruff Diamond all rights reserved
All information, photo's and contents contained on this website pertaining to our dogs or contracts, unless otherwise indicated, is solely the property of Ruff Diamond American Bulldogs. Any reprints or other dissemination are prohibited with out written consent from Ruff Diamond American Bulldogs and is punishable by law.