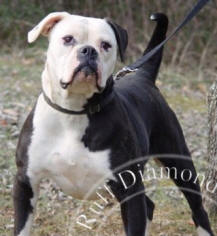 Rest in Peace my Beautiful Montana
Montana....WOW !! Just check her out she looks a lot like her mom Mookie and has her daddies paint job. Montana has that female attitude that is for sure. She loves to play with her ball all the time and will throw it out of her kennel for you to get and throw back. Structure, movement, head type and the look...Montana has it all. What more can you say about her except PHENOMENAL.
Ruff Diamond's Mookie X Ch. SS Fatboy Slim
Weight: 75 lbs Height: 23" at the withers

2002-2009
---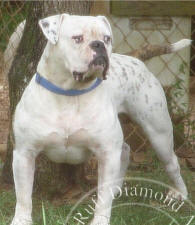 Rest in Peace my Best Friend
Willie is an exception to all the rules. He had more drive than most dogs and can never be still, he always had to be doing something whether it is playing with his ball or jumping on the spring pole. If Willie got bored all he had to do is drop his ball into his water bucket and go fishing for it or he can put his ball in his feeder and then try to get it out. As far as structure and movement Willie was awesome. Willie's attitude is more of a "I don't care and I will do it when I feel like it", but he knows to be ready if asked. Willie was a lot like his sister with the same attitude, structure, movement and drive. Both of them have the same will to win and be the best. Willie will be missed and loved forever. Thank you Willie for all the good times you gave us, I will never forget you.
Ruff Diamond's Sadie X Ch. Bamas Best Khubla Khan (RIP)
Weight: 96 lbs Height: 25" at the withers
2002-2009

---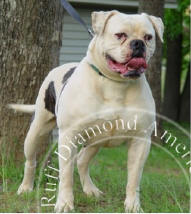 Rest in Peace our Sweet Mookie
Mookie was Sadie & Tugs sister and fit right in their with the muscle and attitude. Mookie was one awesome female with the total package to offer. Great structure, muscle, head type and movement and all around one sweet dog. She loved people and loved to cuddle. Mookie also liked to start trouble with her daughter Montana of course she usually tries to start it and Montana can't resist a good argument with her mom. But hey they are bully bitches right...LOL Mookie you will be greatly missed and we will always remember you and love you.
Ruff Diamond's Queen Daisy X Ch. SS Devines Major Bully
1999-2007
---
Rest in Peace our loving Daisy
Daisy was an Unbelievable female with a lot to offer. She was very loving to our family and friends but also very protective when needed. Daisy has an awesome build with a great head. Daisy was our foundation bitch at Ruff Diamond and look at what we now have...WOW ! Thanks Daisy for all of your offspring and the love you gave us. You will always be remembered, missed and loved.
WAB Jacksons Ace X Blackwell's Homecoming Queen
1996-2006