About Us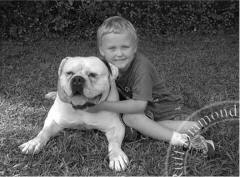 I would like to welcome your family to Ruff Diamond American Bulldogs where our bulldogs are Just Plain AWESOME. We are located in NW Georgia. We have been around American Bulldogs for several years now and have grown to love these dogs for their gentleness with children, loyalty, affection and ability to protect our family if need be. Producing the Best for your family and ours.
Here at Ruff Diamond we breed for ourselves and to better our dogs. If we can produce a better dog than what you see on our site then we have done our job and we are extremely happy about that. We want the dogs we produce to be better than the parents in all aspects whether it be working ability, conformation or just a great pet for you and your family. We want the dogs we produce to win your hearts as well as in the ring and working events. If we produce a dog that is all around better and even wins against us at shows then we are happy and have done what we have set out to do.
Producing a Johnson type bulldog with a rock solid temperament, healthy, well rounded bulldog with agility and strength. We want to produce a strong built bulldog with a large head, big chest, shorter muzzle and definite undershot bite. We don't breed dogs just for the fun of it we want only the best for our family and yours. We ask that everyone who applies for one of our dogs answers questions and signs a purchase contract. We want only the best for our dogs and we will ask a lot of questions to a prospective owner. We want everyone who owns an American Bulldog to be happy and to get the type of dog they want. If we don't have what you are looking for we will try to help you find it. We are not here to sell you a dog we are here to make sure you get what you want. We are always here for you whether you buy a dog from us or not, we will always try to help you with any question you may have.
American Bulldogs are known for their love of human physical contact, sportive nature and their affection. They are always ready to please their owner with a strong heart and the ability to perform.
We want every person who visits our site or our home to see how much we respect and love our dogs dearly and want everyone to be happy with their choice of dogs. If you purchase from us we want you to know we will always be there if you have questions. Even if you buy from another breeder we will always help. Always check out a breeder before you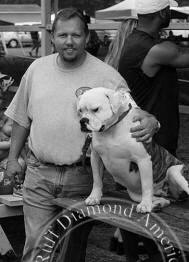 purchase.
We would like to take this time to thank all our friends who have one of our dogs and we look forward to a wonderful and lasting friendship. Even if you don't have one of our dogs please feel free to contact us at any time if you have any questions or comments about our dogs or you just have something to add. We will always be here, Ruff Diamond is in it for one reason and that is to produce a better dog than we have on our yard and to always better our program.
Please feel free to email or call us with any questions you may have on this breed or about our dogs. We will help you in any way possible to find the perfect dog for you.
Thanks for visiting and God Bless,
Mike