Ruff Diamond's Saddle Back Sadie (Retired)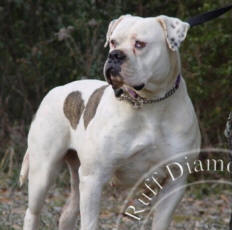 Sadie is Tug's & Mookie's sister and as you can tell she has a great body, lots of muscle and hard as a rock. Take away the muscle and you have one of the sweetest dogs you will ever meet. Sadie loves kids and loves to be in the house with my son. Don't let my son be sick and let Sadie in the house she will not leave his side she stays with him the whole time except to go outside and go to the bathroom and then she doesn't want to leave him. Sadie has always been one awesome producer here at Ruff Diamond and has thrown great muscle and structure, big heads and great overall attitudes. Sadie was one awesome producer in her time. She produced Willie, Dora and Piper on our yard and all their brothers and sisters are all just as nice. We definitely miss this girl in our breeding program.
Weight: 90 lbs 23.5 at the withers
Sadie's Pedigree
Sire
Ch. SS Georgia Cracker

Sire

Supreme Grand Ch. Major Bully

Sire
MD Sampson

Dam
MD Sheba

Dam

Johnson's Collette 25

Sire

JDJ Bo Donald

Dam

JDJ Collette 10

Dam
Ruff Diamond's Queens Daisy of Blackwell

Sire
WAB Jackson's Ace

Sire
Jackson's Buck

Dam
Johnson's Sugar Doll 53

Dam
Blackwell's Homecoming Queen

Sire
Blackwell's Abdominal Snowman

Dam
Blackwells Prue
---
Please email with any questions you may whether you own a Ruff Diamond dog or not we are always here to help.
Thanks Mike
send email to
706-669-9189

Copyright Ruff Diamond AB's © 1998-2005, Ruff Diamond all rights reserved
All information, photo's and contents contained on this website pertaining to our dogs or contracts, unless otherwise indicated, is solely the property of Ruff Diamond American Bulldogs. Any reprints or other dissemination are prohibited with out written consent from Ruff Diamond American Bulldogs and is punishable by law.